St. Philip's has become known for its popular spring and fall concert series. Best of all, the concerts are free! (Of course, goodwill offerings for the performers and St. Philip's are gratefully accepted.)
2019 Fall Performances
Sat., Sep. 21, 7 p.m.
Glenn Shouyuu Swann, Japanese Shakuhachi Flute
Glenn Shouyuu Swann plays the Japanese flute, or shakuhachi. He studied under Tomie Hahn and Steven Rowland before receiving his master's license and professional name from Kawase Junsuke III. This performance, titled "Sunset of Autumn," will feature pieces both musical and meditative, reflecting the beauty and impermanence of the autumn season.
Sun., Sep. 29, 7 p.m.
Pianist Roburt Gajdos and violinist Alexandre Djokic
Pianist Roburt Gajdos and violinist Alexandre Djokic will perform Beethoven's Romance in F and Sonata in A Major, Opus 12; Sonata in C Minor by Edvard Grieg; and an original composition by Gajdos, "Letter From Trondheim."
Djokic has performed as soloist, recitalist and chamber musician in New York, Philadelphia, Chicago, Baltimore, London and Bangalore. He has won prestigious awards, including the Colmar International Chamber Music Competition in France and the Samuel Thaviu and Victor Aitay awards from the Chicago Symphony Orchestra. He has performed with distinguished musicians such as pianist Michael Sheadel, organist Trent Johnson, hornist Jacquelyn Adams, flutist Paula Hildebrand-Kolbe, cellist Stephen Framil and violists Kim Foster and Victoria Voronyansky.
Gajdos performs extensively in the Delaware Valley in public and private recitals and on radio and television. He is the pianist of St. Philip's Episcopal Church and is on the faculty of the Central Bucks Conservatory, where he directs the piano program. Gajdos is a protege of the renowned pianist Susan Starr and studied pianistic style and tone production with Olga D'Stroumillo, an associate of Vladimir Horowitz.
Also coming soon:
• Cellist Noelle Casella Grand and Pianist Sebastian Grand
• Classical Vocal Music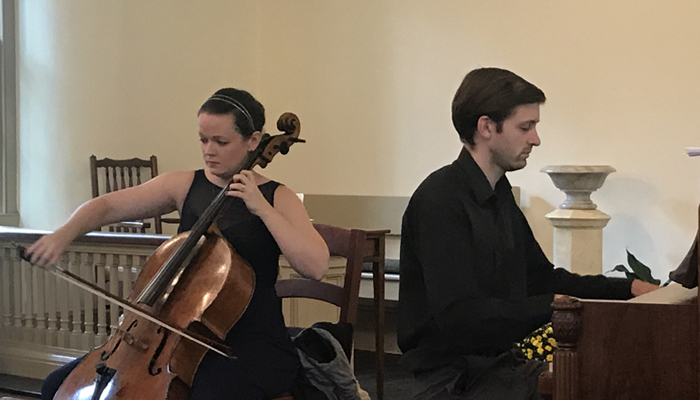 2019 Past Performances
• David Brahinsky and Friends
• Folk musicians Simple Gifts
• Guitarist Peter Griggs
• Singer-songwriter Cat London
2018 Past Performances
• Mostly Motets Christmas Concert
• Cellist Noelle Casella Grand and Pianist Sebastian Grand
• Cabaret Vocalist Stearns Matthews
• Singer-Songwriter Cat London
• Vocalist Alexandra Porter
• Guitarist Gary Kessler
• Bucks County Women's Chorus
• The Songs of Leonard Cohen