St. Philip's has become known for its popular spring and fall concert series. Best of all, the concerts are free! (Of course, goodwill offerings for the performers and St. Philip's are gratefully accepted.)
2019 Fall Performances
Sun., Nov. 24, 3 p.m.
Cellist Noelle Casella Grand and Pianist Sebastian Grand
Cellist Noelle Casella Grand and pianist Sebastian Grand are internationally acclaimed musicians and local favorites who draw large crowds to their performances. The November 24 concert will be their fourth appearance at St. Philip's in as many years. The program is titled "A German Song" and will feature the following works:
Fantasiestücke, Op. 73 Robert Schumann
Cello Sonata No. 3, Op. 69 Ludwig van Beethoven
Lied Ohne Worte, Op. 109 Felix Mendelssohn
Ständchen, D. 957 Franz Schubert
Du Bist die Ruh, D. 776 Franz Schubert
Noelle graduated from the Royal Academy of Music in London and studied at Sarah Lawrence College and the Conservatorium van Amsterdam. In 2019 she performed as a soloist with the Bach Festival Orchestra (Bethlehem) and with Amici Strings (Philadelphia).
Sebastian is a first-class graduate of the Joint Course between the University of Manchester and the Royal Northern College of Music. He received a master's degree with distinction from the Royal Academy of Music. He conducts the Ripieno Ensemble of the Youth Orchestra of Bucks County and is entering his third season as assistant conductor of the Bucks County Symphony Orchestra. He is also on the adjunct faculty of Lafayette College.
The husband-and-wife duo direct the Grand School of Music in Buckingham Township. The school offers specialized musical instruction by world-recognized musicians and teachers.
Sun., Dec. 8, 3 p.m.
Christmas Concert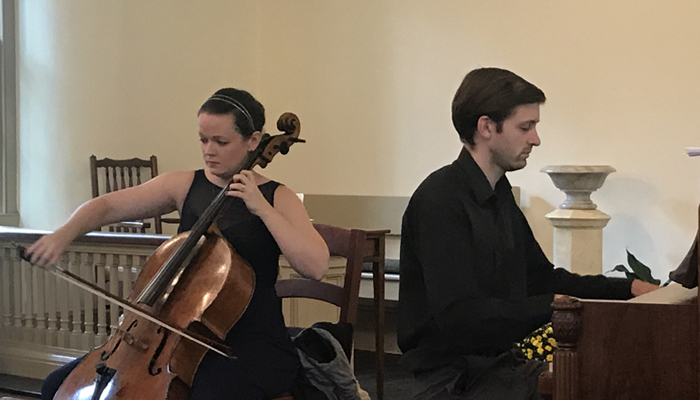 2019 Past Performances
• Cabaret for a Cause
• Pianist Roburt Gajdos and violinist Alexandre Djokic
• Shakuhachi flutist Glenn Shouyuu Swann
• Singer-songwriter Cat London
• Guitarist Peter Griggs
• Folk musicians Simple Gifts
• David Brahinsky and Friends
2018 Past Performances
• Mostly Motets Christmas Concert
• Cellist Noelle Casella Grand and Pianist Sebastian Grand
• Cabaret Vocalist Stearns Matthews
• Singer-Songwriter Cat London
• Vocalist Alexandra Porter
• Guitarist Gary Kessler
• Bucks County Women's Chorus
• The Songs of Leonard Cohen