At St. Philip's our motto is "Everyone is welcome, and we really mean it." That's especially true at Easter. Whether you're seeking to join a congregation, looking to attend a traditional Easter Day service, or simply curious about our many activities during Holy Week, you're welcome here.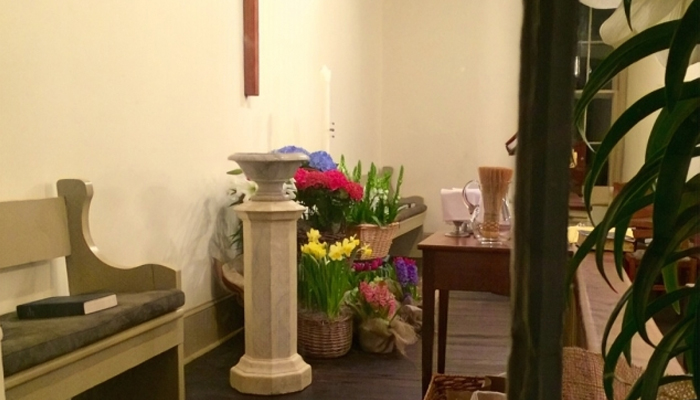 At our church, everyone is invited to receive Communion (though you're just as welcome to sit it out if you like). Our priest will invite you to the altar: At St. Philip's, we take the bread in our hand and eat it, then take the cup from the server's hand and drink from it. Those who wish to receive only bread are welcome to do that.
Because of the coronavirus, our Holy Week celebrations will be virtual this year. Father Michael will live stream services on our Facebook page. Curated videos of the live streams will appear on our Sermons page.
Our Easter 2020 schedule is as follows:
• Palm Sunday, Apr. 5, 8:15 and 10:15 a.m. — Holy Eucharist
• Palm Sunday, Apr. 5, 5 p.m. — Evening Prayer
• Holy Monday, Apr. 6, 8:30 a.m. — Morning Prayer
• Holy Monday, Apr. 6, 7 p.m. — Healing Eucharist
• Holy Tuesday, Apr. 7, 8:30 a.m. — Morning Prayer
• Holy Tuesday, Apr. 7, 7 p.m. — Stations of the Cross
• Holy Wednesday, Apr. 8, 8:30 a.m. — Morning Prayer
• Holy Wednesday, Apr. 8, 7 p.m. — Office of Tenebrae
• Maundy Thursday, Apr. 9, 8:30 a.m. — Morning Prayer
• Maundy Thursday, Apr. 9, 7 p.m. — Eucharist followed by Vigil till 12 midnight
• Good Friday, Apr. 10, 8:30 a.m. — Morning Prayer
• Good Friday, Apr. 10, 12 noon — Liturgy
• Good Friday, Apr. 10, 7 p.m. — Evening Prayer
• Holy Saturday, Apr. 11, 8:30 a.m. — Morning Prayer
• Holy Saturday, Apr. 11, 7 p.m. — The Great Vigil
• Easter Sunday, Apr. 12, 8:15 and 10:15 a.m. — Holy Eucharist
• Easter Sunday, Apr. 12, 7 p.m. — Evening Prayer