At St. Philip's our motto is "Everyone is welcome, and we really mean it." That's especially true at Easter. Whether you're seeking to join a congregation, looking to attend a traditional Easter Day service, or simply curious about our many activities during Holy Week, you're welcome here.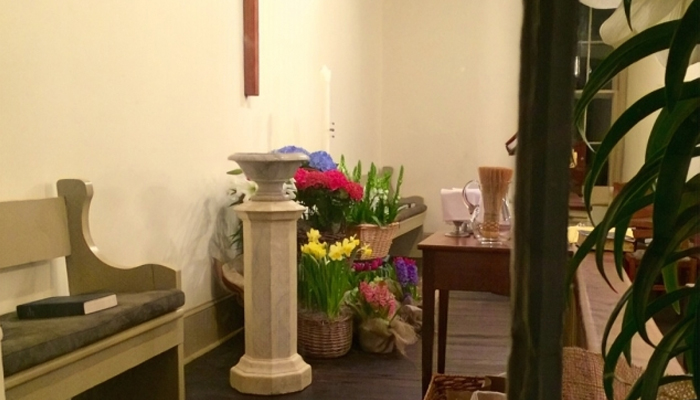 Our Easter 2022 schedule was as follows:
• Sun., Apr. 10
8:15 and 10:15 a.m. – Palm Sunday Eucharist with outdoor procession
• Mon., Apr. 11
7 p.m. – Healing Eucharist
• Tue., Apr. 12
7 p.m. – Outdoor Stations of the Cross, Corner of Bridge St. and Main St., Lambertville
• Wed., Apr. 13
7 p.m. – Office of Tenebrae
• Thu., Apr. 14
7 p.m. – Maundy Thursday Agape Meal (meatless). Eucharist with Foot Washing. Vigil before the Sacrament till midnight, with Compline at 11:45 p.m.
• Fri., Apr. 15
12 p.m. – Good Friday Noon Liturgy
7 p.m. – Good Friday Burial Vespers
• Sat., Apr. 16
7 p.m. – Holy Saturday, The Great Vigil of Easter with Blessing of Easter food
• Sun., Apr. 17
8:15 and 10:15 a.m. – Easter Sunday Eucharist, followed by an egg hunt after the 10:15 service