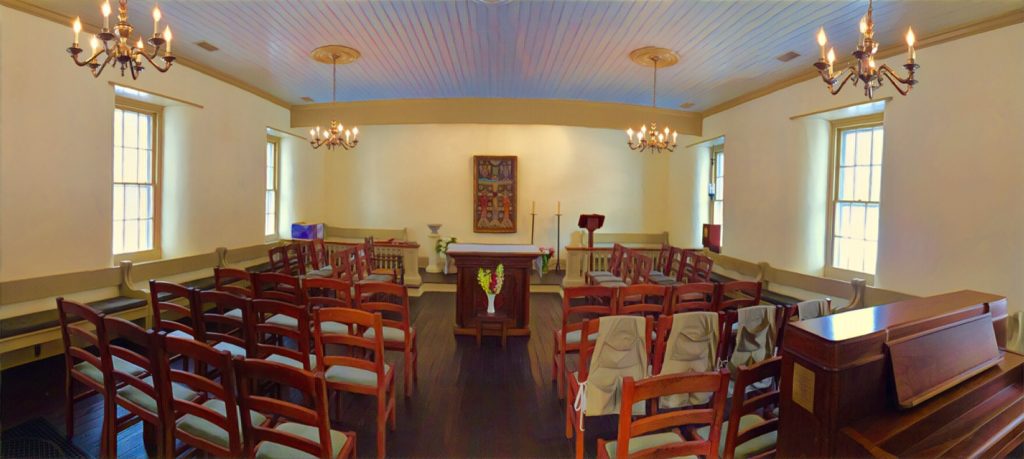 If you have always dreamed of a country wedding in the Episcopal tradition, St. Philip's may be the right place for you.
St. Philip's is located just outside New Hope borough in the heart of Bucks County. Our church building is a simple stone structure built in the early 1800s as a one-room schoolhouse. While the building has been modified over the years to suit the needs of a faith community, it has retained its simplicity and charm.
Our space is perfect for an intimate gathering. We can comfortably seat about 80 people (beyond that number, things become rather cozy). We have a beautiful Steinway piano available for your use. Our patio, gardens and labyrinth provide a lovely setting for photographs and quiet reflection.
Our rector is authorized to perform weddings by both the Commonwealth of Pennsylvania and the State of New Jersey. All couples are welcome to celebrate the sacrament of marriage at St. Philip's. Father Michael also performs commitment ceremonies.
About weddings at St. Philip's
Here you will find basic information designed to help you decide if St. Philip's is the right place to celebrate your marriage:
Presider: The Reverend Michael R. Ruk, rector of St. Philip's
Rite: Episcopal (Book of Common Prayer)
Fee for use of space: $600.00

Includes rehearsal time and the ceremony itself, along with a window of time for setup and lingering afterward for photographs
Does not include a stipend for the presider or any musicians

Reception: It may be possible to hold your reception on our grounds. Contact Father Michael for details.
Floral arrangements: Please plan to leave your floral arrangements for the community's use the following Sunday.
Cleanup/damage: You are responsible for cleanup following your service and/or any damage to our church.
Kindly replace chairs where you found them.
Kindly remove anything you brought with you, except the altar flowers.
Please note
St. Philip's is an active church. We ask that everyone given permission to use our space treat it with reverence and leave it as they found it. You may not:
Move or alter any piece of art
Remove anything from our altar or bookshelves
Remove any interior or exterior seasonal decorations
Scatter flower petals inside the church
Throw rice outside the church. (You may throw birdseed, however.)
Please feel free to discuss these policies with our rector by emailing him at info@stphilipsnewhope.org or by calling 215-862-5782. We will do our best to accommodate your needs and any special circumstances.
View frequently asked questions about St. Philips.