St Philip's Episcopal Church, remembered the month's anniversary of the Orlando shootings with a time of prayer, discussion, and action on Wednesday, July 13. The evening started with a Memorial Mass for all victims of gun violence.
St Philip's Episcopal Church, remembered Mary on Sunday August 14. parishioners wore some blue and we blessed lavender ( a Bucks twist on an Eastern custom).
Burning of palms for Ash Wednesday.
"Curiously British" Concert at St. Philip's
Pianist Sebastian Grand and cellist Nolle Grand performed a concert of "Curiously British" at St. Philip's Episcopal Church on June 26. The program consisted of works from British composers Ralph Vaughan Williams and Frank Bridge and Australian composer Percy Grainger all born at the end of the 19th Century.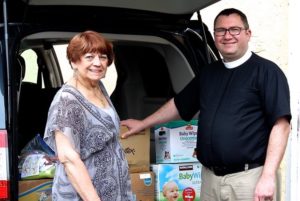 Delaware Valley Interfaith Council donated about ten boxes of personal hygiene kits and supplies to the safe house in Flemington. Pictured Linda Marshall, Flemington Safe House and Michael Ruk, Pastor St. Philips Episcopal and President of DelVal Interfaith Council, load ten boxes of feminine products and infant care for the donation.
Easter Vigil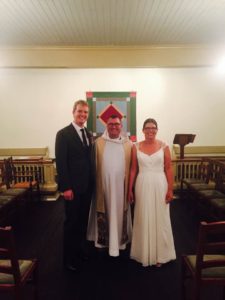 Congrats to Katie and Sean married at St. Philip's. The first time I ever did a wedding in the dark thanks to a thunderstorm!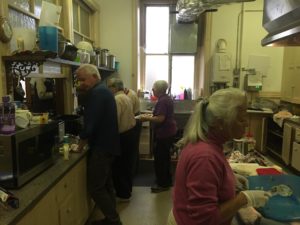 Peace Meal.
Celebrating 20 years of Peace Meal.