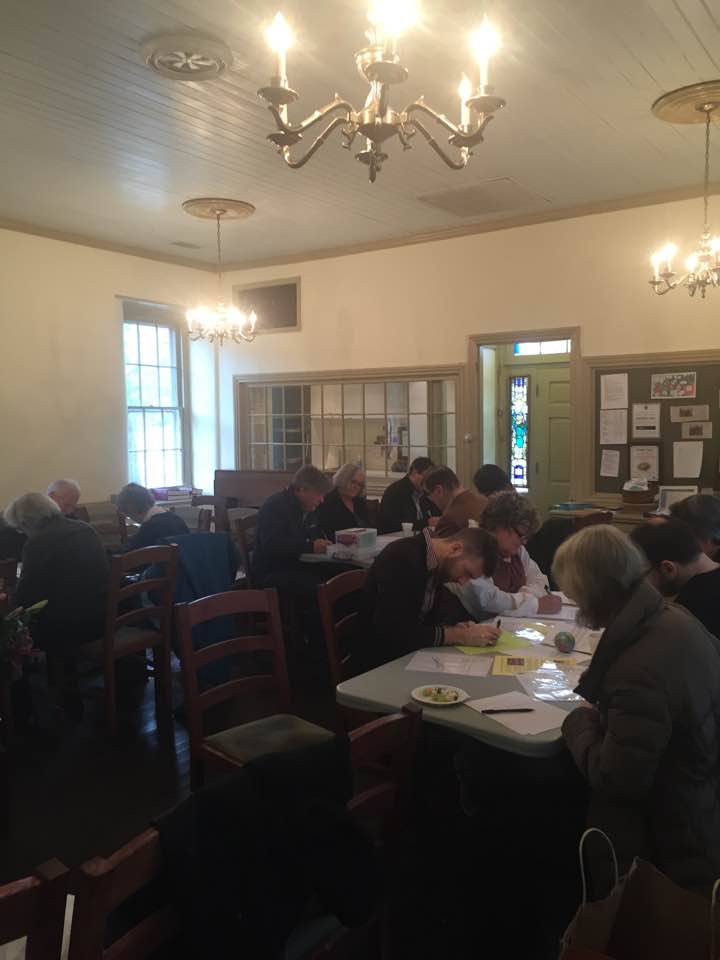 Service is an important part of our commitment to be "boldly incarnational" in the world. A partial list of our ministries and service events follows. Just as all are welcome at our Sunday services, all are welcome to participate in outreach at St. Philip's.You don't have to be Episcopalian or to attend St. Philip's to take part. Just check our calendar of upcoming events – and come "walk the walk" with us.
Ongoing Ministries and Service Events
Amnesty Int'l Write for Rights
Every December, parishioners and friends of St. Philip's participate in Write for Rights, an Amnesty Int'l initiative designed to let political prisoners – and the governments holding them – know they are not forgotten. Over the course of an afternoon at St. Philip's, we write hundreds of letters and cards to prisoners of conscience and their captors. Contact Liz Oliver at lizfieldingo@yahoo.com for more information.
CB-VOL
Central Bucks Volunteer Opportunity Listing (CB-VOL) is a group of individuals who seek to embody peace through concrete community action. Originally called Be Peace, CB-VOL arose out of an interfaith conversation at St. Philip's the day after the 2016 election. At a time when social discourse often fractures along left-right and us vs. them lines, CB-VOL offers constructive ways to bridge divisions one volunteer opportunity at a time.
In strictly practical terms, CB-VOL is a clearinghouse for information – proactively delivered to members' Facebook feeds – about time-specific and ongoing volunteer opportunities in Central Bucks.
But CB-VOL is much more than a Facebook page. It is a personal commitment to embrace optimism and strengthen community through the act of voluntarism. Members can volunteer for a day, a week or a year. There are no meetings to attend or political litmus tests. Like at St. Philip's itself, everyone is welcome! To participate, simply go to the CB-VOL Facebook page, find a local volunteer opportunity you like or post one for others to see.
Code Blue
The Code Blue Project for Central Bucks is an outgrowth of the Coalition to Shelter and Support the Homeless (CSSH), an alliance of faith-based and community service organizations. It provides shelter for homeless adults on nights when the temperature (or windchill) is expected to be 26°F or below, or if excessive snow or ice is expected.
Host churches agree to provide space for shelter, kitchen facilities for meal preparation, storage of Code Blue supplies and an onsite coordinator for one month each during the winter. Host church sites for the winter of 2015-2016 are Neshaminy Warwick Church; Trinity Episcopal Church, Buckingham; Doylestown Presbyterian Church; and St. Paul's Lutheran Church, Doylestown.
With limited physical space for shelter, St. Philip's provides financial support and donated items (bedding, blankets, food supplies), and church volunteers help move Code Blue supplies between host churches and into storage come springtime. We are always in need of volunteers as well as cars, vans and trucks to do this. In addition, Code Blue is looking for people to work the overnight shift at the churches being used for shelter. These volunteers (unlike those moving supplies) must participate in a training session prior to volunteering.
People become homeless for many different reasons, many of them beyond their control. To get involved in this vital ministry, visit www.co2ssh.org directly or contact St. Philip's Code Blue Transport Coordinator Jan Gnadt at bjgnadt@yahoo.com.
Community Peacemeal
Volunteers from St. Philip's can frequently be found cooking up something delicious in support of Community Peacemeal, the once-a-month dinner started in 1994 by Trinity Episcopal Church, Solebury, in support of those affected by HIV/AIDS. Now hosted by Trinity Episcopal Church, Buckingham, Peacemeal has broadened its mission to include the homeless and all those in need of community. Peacemeal attracts people from all over Bucks County and as far away as Philadelphia for fun, food and fellowship.To don an apron, get more information or donate food or funds, contact us at info@stphilipsnewhope.org.
Diaper Drive
For the past several years, two of our parishioners have driven to Mexico with a carload of diapers, baby wipes, powdered milk and other necessities bought with donations from other parishioners, family and friends. These goods are then distributed weekly, benefiting dozens of children and elderly people in the Puerto Vallarta area. To donate, participate or learn more, contact Lupe Summers at jcslas1982@comcast.net.
Folder Drive with The Simple Way
Since 2016, in partnership with our friends at The Simple Way, members of St. Philip's have collected thousands of two-pocket folders and composition-style notebooks for schoolkids in the Kensington neighborhood of Philadelphia, where The Simple Way is headquartered. The Simple Way is a nonprofit organization and community that describes itself as "a web of subversive friends conspiring to spread the vision of 'Loving God, Loving People, and Following Jesus' in our neighborhoods and in our world."
"Free the Girls" Bra Drive
Every year, St. Philip's holds a "Free the Girls" bra drive, collecting many hundreds of new and gently used bras to benefit sex-trafficking survivors. You can learn more about our bra drive here.
In-Church Food Collection
St. Philip's collects non-perishable food items every week and takes them to the Food Pantry at St. John the Evangelist Roman Catholic Church in Lambertville, N.J. Since the "Great Recession" of 2008, demand for food has consistently outstripped the Food Pantry's ability to provide assistance to all who need it. To help, contact Jamie Hagan at jamie_hagan@yahoo.com, or simply bring non-perishable food items to St. Philip's and drop them in the basket by the front door (please see the list there of most-needed items).
Needlework Guild of America (NGA)
For more than 60 years, the Needlework Guild at St. Philip's has been helping people in our community secure clean, warm clothing and other necessities.
In recent years, we've been able to gather hundreds of new or gently used items, including winter coats for children, blankets, and men's and women's clothing, which in turn have been distributed by NGA to local agencies such as the Salvation Army. St. Philip's is joined in this effort by Doylestown United Methodist Church and Thompson Memorial Presbyterian Church, also of Doylestown.
Each November, we hope to increase from past years the number of winter "Coats for Kids" we collect. Contact Penny Barnes at scottb51148@comcast.net to donate or otherwise help out.
Pastoral Care
Are you homebound following an illness or surgery? Do you wish you could come to services at St. Philip's but you no longer drive? Do you need help getting to and from a medical appointment or treatment and friends and family are unable to take you?
Volunteers from St. Philip's provide home-cooked meals, transportation and other pastoral care services to church members and others in need. For more information, contact Lupe Summers at jcslas1982@comcast.net.
St. Michael's Day Celebration
St. Michael, whose Feast Day is September 29th, is the patron saint of police officers and firefighters. Since 2016, St. Philip's has celebrated a mass in late September to honor these very special people, attracting a large contingent of New Hope's Finest and Bravest (along with some large red trucks). Our 2018 St. Michael's Day mass will be celebrated on September 30th. As with all of our regular and special masses, all are welcome.
St. Genesius's Day Celebration
St. Philip's has a special affinity for the arts, performing and otherwise. We also have our share of lawyers and converts. So it seemed fitting that we celebrate the Feast of St. Genesius, the 3rd century comedian whose on-stage conversion has made him the patron saint of actors, lawyers and converts. Our August 2018 celebration was such a success, we will reprise it August 24, 2019. Join us! You need not be an actor, lawyer or convert to attend.
St. Philip's Sock Drive for the Homeless
Every Christmas, St. Philip's collects new socks to benefit homeless people in our community. You can learn more about our sock drive here.
Recent Ministries and Service Events
AIDS Walk
St. Philip's long supported the annual New Hope AIDS Walk – with funds, walkers, water and enthusiasm for a good cause. Sponsored by the Bucks County chapter of Fighting AIDS Continuously Together (FACT), the event was held every fall and helped support people living with HIV/AIDS in Bucks, Hunterdon and Mercer counties. The last annual New Hope AIDS Walk took place in October 2015.
Carpenter's Kids
From 2013 to 2016, St. Philip's supported the primary and/or vocational education of 40 AIDS orphans in the village of Nghulugano, Tanzania, through the Carpenter's Kids Program.The program began in 2005 as a partnership between the Dioceses of New York and Central Tanganyika, Tanzania. Before the program came to a close because of leadership changes in the Diocese of Central Tanganyika, it educated more than 7,000 children through the participation of Episcopal/Anglican parishes in 5 countries and 6 U.S. states.
Duduza Doll Project
From 2009 to 2013, a number of our members were involved in knitting and distributing Duduza (comfort) dolls to children affected by illness, natural disaster, war and poverty. More than 800 dolls were sent from St. Philip's to children in Belize, Brazil, El Salvador, Guatemala, Honduras, Nepal and elsewhere. An anonymous donor donated a large amount of yarn for Duduza-doll makers to use, and several master knitters in our congregation taught others how to make the dolls. While this ministry is currently inactive, all it requires is a "champion" to restart. Contact info@stphilipsnewhope.org if interested.
Feeding Our Community
Our patron, St. Philip, is traditionally associated with food and the miracle of the loaves and fishes. So it's fitting that many of our outreach efforts have involved food and sharing from our abundance:
Food with Friends – In 2015, St. Philip's helped sister church St. Paul's of Levittown collect money to support its "Food with Friends" program, which serves the hungry in Levittown and beyond.
Meal-packing events – In 2014 and 2015, St. Philip's celebrated Martin Luther King Day with a "Day of Service" meal-packing event at the Eagle Firehouse in New Hope. Undertaken in partnership with Outreach, Inc. of Iowa, St. Philip's was joined at the 2015 event by members of Thompson Memorial Presbyterian Church, New Hope; St. Paul's Episcopal Church and the Church of St. Mary Magdalene, Levittown; All Saints Church, Fallsington; and assorted individuals, about 80 people in all. Organized into 7 production lines, volunteers packed 27,000 meals for the area's hungry in the space of just two hours.
In 2016 and 2017, St. Philip's members joined others in a meal-packing event organized by the United Way.
Philip's Table – In Fall 2015, we hosted a "Philip's Table" dinner to raise funds for local food pantries—and to raise awareness of hunger in our midst. Modeled after the Empty Bowls Project, an international grassroots movement to combat hunger, the dinner took place at the Eagle Firehouse in New Hope and combined delicious homemade soup with one-of-a-kind soup bowls made by area artists. Diners were encouraged to take their "empty bowls" home with them as a tangible reminder of food insecurity in our community, which often hides in plain sight. Proceeds went to Rolling Harvest Food Rescue of New Hope, among other local organizations.
Habitat for Humanity
Over the years, St. Philip's has supported Habitat for Humanity's home-building mission with volunteers and funds. In March 2015, a group of parishioners, joined by family and friends, journeyed to the tiny mountain village of Chirijcaja, Guatemala, for a week of bending rebar and mixing cement by hand. Per Habitat policy, they worked side by side with the recipient family (as well as a trio of local masons). By the end of an exhausting but joyous week, they had made some new friends – and constructed a 4-room cement-block house up to the crown.
Special Pride Mass
Timed to coincide with the annual New Hope Celebrates (NHC) Pride Parade, a special Pride Service, with a focus on transgender concerns, was held at St. Philip's in May 2016. The church also participated in the parade itself, as it does each year.
St. Philip's Nablus, Palestine
St. Philip, our patron, taught and baptized in the 2,000-year-old-city of Nablus. Today, St. Philip's Nablus is spiritual home to a tiny and beleaguered community of Palestinian Anglicans in the Diocese of Jerusalem, one of only five Anglican parishes in the Palestinian territories. Together with another Anglican parish, Good Shepherd Rafidia, St. Philip's Nablus supports a small school, the Christian National Kindergarten, which they'd like to expand to add more grades. In recent years, we have helped support our sister's parish's efforts by selling the beautiful "peace lamps" they create – working oil lamps like those of Jesus' day – and through other fundraising activities.
Other Events
Interested in rolling up your sleeves with The Simple Way community in Philly? How about blessing the Delaware River, getting "Ashes to Go," or attending a live performance of piano and cello music by classical artists Noelle and Sebastian Grand? Whether it's service-oriented, sacramental or cultural in nature, there's always something happening at St. Philip's. Check out our calendar of upcoming events – and check back often for updates.